As a member of BNI we get many benefits, one is in rotation we get the opportunity to talk about our business for 10 mins, "Feature Presentation"
Please find below the slides from our presentation this week and if you would like to discuss any training, but specifically Mental Health Training, we would love to talk to you!!
Who we are and who we are proud to be connected and associated with!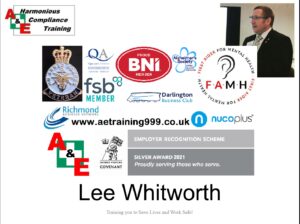 My WHY?  My Past?
Some of what we offer!
Our Key Courses, could we help YOU?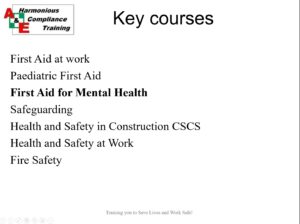 The Team! As a family run business, we all have an input in the company and the direction we are going.
Fair Right our Administrator Amy!
Bottom Row, Our Lead Trainer Andrew, Trainer Simeon, Training Hannah, Internal Quality Assurer Danial!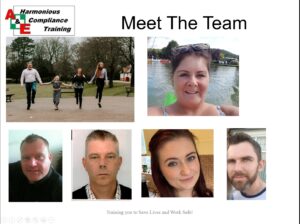 Ask your Friends and Family members one question …….. Our you ok?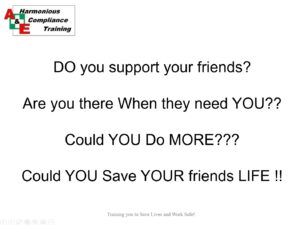 We ALL have  Mental Health, how is yours?  We can help you learn to spot when a work colleague, Friend or family member isn't feeling  themselves!!
To see this video please click on Mental Health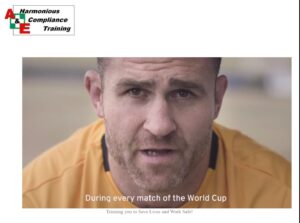 We want to help these business types as we feel they would benefit from BNI and in return help ourselves.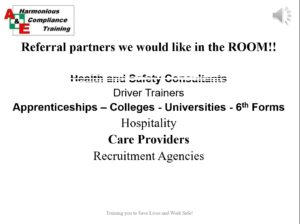 I would love to talk to the following to see if we could support them with, help, advice or training, as we are passionate that we deliver hands on engaging and confidence building training.
We use networking as a large part of our marketing strategy, this includes BNI, Darlington Business Network, Richmondshire Business Network, Military and Veteran Networks and Freemasonry. If you would like to try a meeting, just ask?  We can arrange an invite or introduction to any meetings.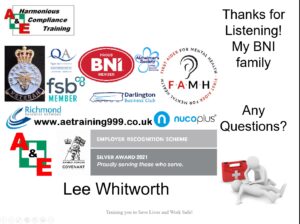 If you prefer follow this link, however we request if you do visit, please recognise ourselves.
https://bni-dt.co.uk/en-GB/index,
https://www.rbnetwork.co.uk
https://www.facebook.com/bedecollegelodge/?ref=pages_you_manage
We are associated with Qualsafe Awards and NUCO Training, this ensures we as a company are quality assured and always above standard and aiming for even higher, as Life Long Learning is our passion.