Where is your nearest
Defib – AED – Heart starter – That machine thing!!!
Whatever you call an Automated External Defibrillator, DO YOU KNOW WHERE IT IS???
If you don't know, find out, there are some great apps out there like "GoodSam", "Save A Life" that if the local ambulance service are affiliated, will show you where the nearest defib is, times it's available and some even have a photo of where it sits.
An AED re-establishes a normal rhythm after cardiac arrest and a heart has gone in to Ventricular tachycardia (VT) or Ventricular Fibrillation (VF). Difbs are designed for anyone to be able to use, though training helps you be fully confident in using one.
If you have not got one within 5 mins from your place of work or home, we advise you look into the possibility of raising funds and getting one close by, it could save your life!
There are many models of defibs out there and just like cars, they all work the same, just have different features. We at A&E Training carry an IPad Sp1 as the running costs are reasonable and the machine has an option for Paediatric / Child or Adult.
If you want any advice,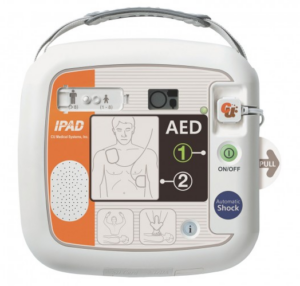 it's   just a call!!